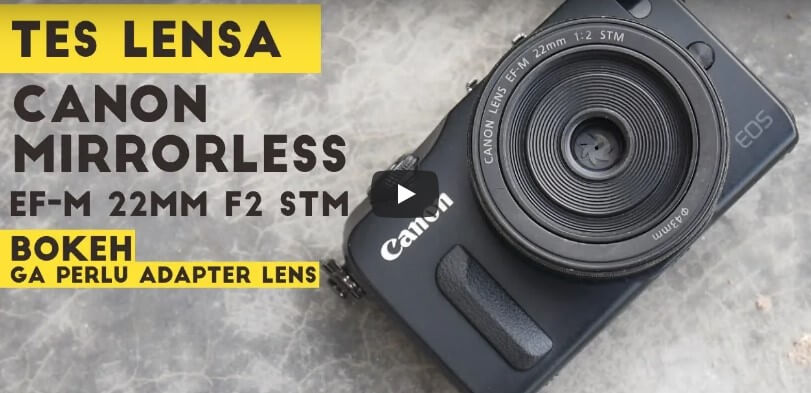 Salah satu lensa fix mirrorless canon yang paling banyak diminati saat ini adalah Lensa EF-M 22mm F2 STM. Harga lensa ini dipasaran masih tergolong relatif murah. Lensa ini merupakan lensa fix dengan bentuk mungil dan tipis atau lebih sering disebut lensa pencake.
Dengan lensa EF M 22mm F2 STM, maka teman-teman tidak perlu lagi menambahkan adapter tambahan jika ingin memasangkannya dikamera canon mirrorless eos m, eos m10, eos m3, eos m5, eos m6, eos m2, dan kamera sejenis yang menggunakan mount EF-M.
Fitur EF-M 22mm F2 STM
Aspherical lens elements reduce chromatic aberrations, and Super Spectra coatings help ensure accurate color balance and high contrast while suppressing flare and ghosting
For movie-makers, the built-in stepping motor affords smooth and quiet continuous autofocus
The 7-blade diaphragm delivers soft-focus backgrounds, and a short minimum focusing distance of only 5.9″ allows you to get closer to your subjects
Diagonal angle of view is 63°30′
Internal Focusing System focus adjustment
EF-M Mount Lens/APS-C Format
35.2 mm (35mm Equivalent)
Aperture Range: f/2 to f/22
Aspherical Lens Elements
Built-In Stepping Motor
Smooth & Continuous AF
Short Minimum Focusing Distance of 5.9″
7-Blade Diaphragm
Fisik EF-M 22mm F2 STM
Material fisik lensa ini keseluruhan terbuat dari bahan allumunium, jadi meskipun lensa ini bentuknya kecil bahan yang digunakan tetap berkualitas.
Review Hasil EF M 22mm F2 STM
Bagaimana dengan hasilnya, yuk silakan langsung tonton video reviewnya berikut ini
Gimana? Bagus nga hasilnya? Silakan di nilai sendiri ya.
Secara keseluruhan lensa ini sangat cocok buat teman-teman yang pengen cari lensa fix mirrorless canon agar hasil fotonya makin ngeblur/bokeh backgroundnya, dan juga sangat cocok digunakan untuk membuat video karena sudah menggunakan STM(Stepper Motor) suara fokus sangat lembut(tidak berisik) dan cepat.
Terimakasih sudah membaca artikel Review Hasil EF M 22mm F2 STM, semoga bermanfaat, dan terimakasih.